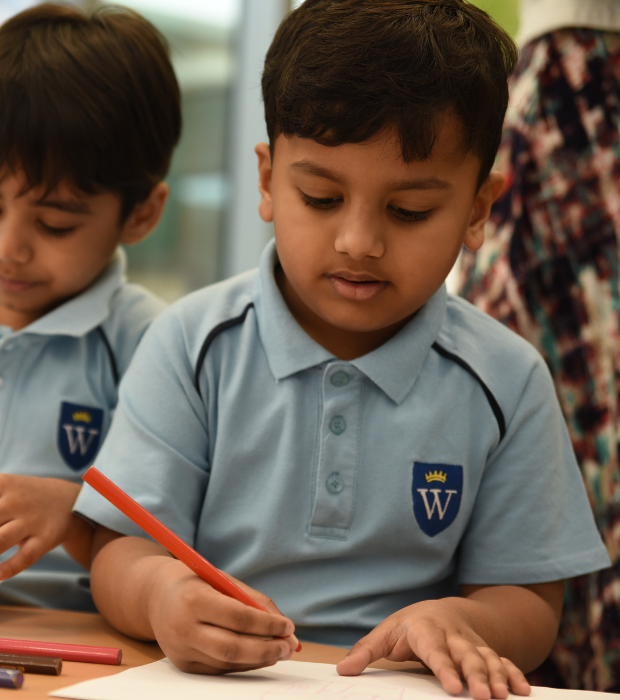 Entrance Assessments
GEMS Wellington School - Qatar admits pupils in line with the Ministry of Education and Higher Education regulations and the GEMS admission policy.
Year Group Placement
GEMS Wellington School – Qatar seeks to make the most appropriate year group placement for each student based on his or her age, as well as academic, social and emotional development within policy guidelines. For this reason, new students are required to complete an appropriate level assessment to determine placement and fit. For Foundation Stage 1, Foundation Stage 2 ,Year 1 and Year 2 this will be an observation based assessment and looks at basic sounds, letters, number, shapes and colours. For Year 3 to Year 6 there will be Cognitive Ability Test (CAT) and written English. For Year 7 upwards there will only be a Cognitive Ability Test (CAT) Assessment. We also conduct overseas assessment to help student secure their places before the arrive into Qatar
Previous Schooling
All new students must provide official documentation of previous school experience, report card, and test scores. All documents provided should be in English.The school may request certification of translation from the Consulate of the country in which the student last attended to meet admission requirements.
Where appropriate, the application must be supported by a transfer certificate which shows successful completion of the academic year and the equivalence of the curriculum to the British curriculum if otherwise.
Please note that the Ministry of Education and Higher Education, Qatar have set the below regulations for the admission of international students in private schools:
International Students
All children joining year 2 and above who are transferring from schools outside of Qatar are required to provide the school with an attested copy of the latest school report/end of current academic year school report and attested transfer certificate if coming from different curriculum.
Please follow the following process to attest the school reports:
The school report to be signed and stamped by the issuing school.
Then, stamped by the Ministry of Education and the Ministry of Foreign Affairs in the issuing country.
Next, attested by the embassy of the Qatar in the issuing country.
Finally, attested by the Ministry of Foreign Affairs in Qatar upon arrival.
We understand that the attestation process might differ from one country to another, therefore, we suggest to visit the Qatar Embassy in the country you are coming from to clarify the requirements.