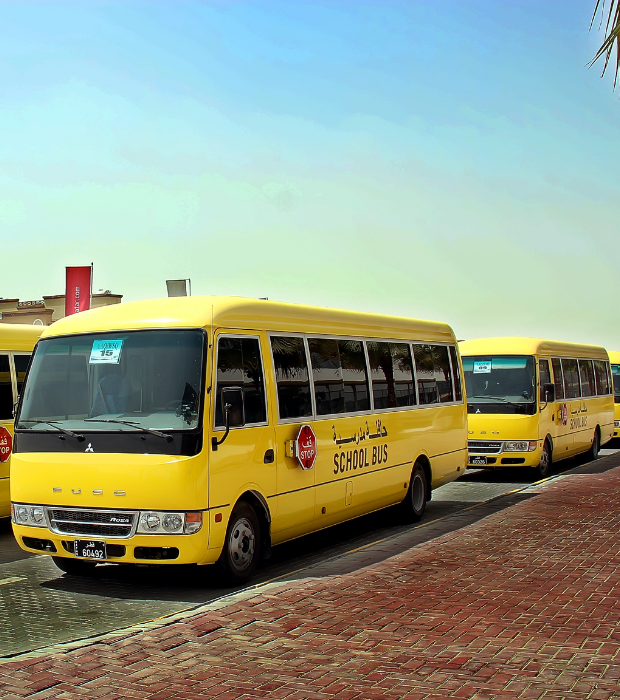 School Transport
Looking for a ride to school?
GEMS Wellington School Qatar's official transport provider is School Transport Services (STS), a part of STS Group of companies.
As the GCC's leading private operator for school transport, STS has been a proud partner to the education sector for over a decade. The school bus fleet, in line with their core values of Safe, Timely, Smart, are enabled with safety features such as GPS monitoring, electronic attendance systems, surveillance cameras, fatigue detection systems, amongst other technologies centered around student safety. The transport staff undergo rigorous training programs in student welfare and road safety management. Each bus route has a dedicated bus driver and bus guardian who will be a part of the student's school bus experience.
STS works closely with the school's administration team to ensure that parents and students receive the best service possible. Their commitments to GEMS Wellington School Qatar are to:
Provide safe, timely, smart transportation to and from school.

Never compromise on the health and safety of students, employees, and the environment.

Deliver on our promises through effective communication, teamwork, and commitment.

Listen and create innovative solutions that add value

for

GEMS Wellington School Qatar

.

Enable open communication with the school, parents, and students.
For enquiries, please contact:
Name: Tharaka Madushan
Contact No.: M: +974 6625 8535
Email ID: [email protected]
Key Documents:
STS is committed to supporting the reduction of carbon emissions and air pollution by optimising bus routes and encouraging the use of transport services, in return reducing the number of cars on the roads. For more information, please visit www.sts-group.com.