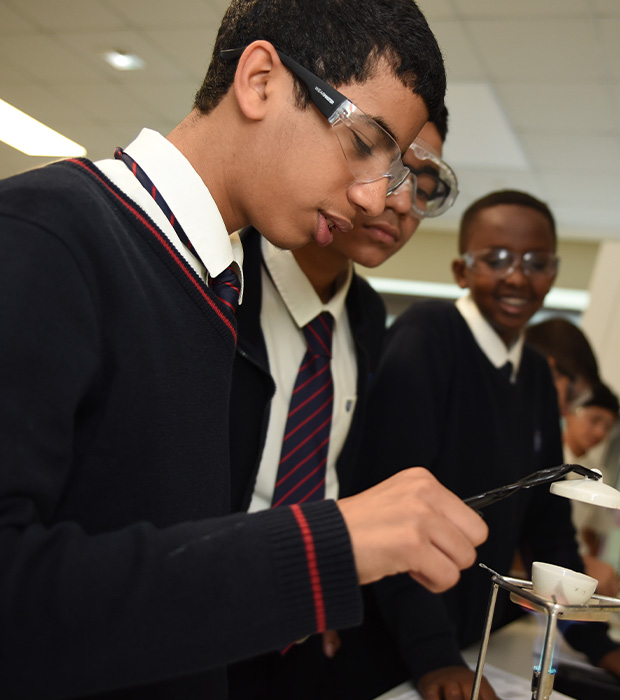 Senior (Secondary) School
Key Stages 3 - 5
Key Stages 3 & 4 - (Year 7 - Year 11)
Our Key Stage 3 & 4 Curriculum is based on the English National Curriculum (ENC). Our curriculum is designed to provide a seamless transition from Key Stage 2 to the end of Key Stage 4, at age 18. It is a skills-focused curriculum that provides students with a broad and balanced knowledge of key subjects as well as the opportunity to develop their 21st century learning skills through our unique learner profile. This provides opportunities for our students to become more aware of themselves, their interests and their strengths.
Preparing for IGCSEs (Year 9 - Year 11)
Our students at GEMS Wellington School, Qatar are well prepared to the International General Certificate of Secondary Education (IGCSEs). These worldwide recognised qualifications are important for students seeking admission to Universities, and are an excellent preparation for future study.
Students study the core IGCSEs in English, Mathematics and Science. This course of study is complimented with a number of optional IGCSEs. This provides our students the freedom to choose subjects that are needed for their future pathways whilst providing them with a broad knowledge base. Students will undertake between 9 - 11 IGCSEs in total.
Key Stage 5 (Year 12 - Year 13)
In Key Stage 5 Students will study for the Edexcel International Advanced Level examinations. Students will take a maximum of 4 subjects.
These exams allow for the students to take an AS (Advanced Subsidiary) examination at the end of year 12. This qualification will allow entry to some universities in India, Indonesia and Canada on an undergraduate course, or in to a foundation course.
Students can then continue their studies in to Year 13 and at the end of Year 13 they will sit for the Advanced Level examination. Success in these examinations will allow them to access an undergraduate course in any university .
The Edexcel International Advanced level qualification is an accredited qualification that is recognized qualification worldwide.